Man treated after Aberdeen's annual Nippy Dipper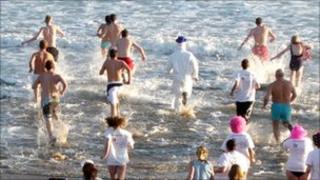 A man was treated by medical staff after collapsing during the annual Aberdeen Beach Boxing Day swim in the North Sea.
About 200 people took part in the Nippy Dipper, to raise money for charity.
Organisers said a man in his 20s had to be helped by Red Cross medics and Coastguard rescue staff after leaving the water.
He was stretchered up the beach but was said to have been able to walk to the ambulance.
Chris Southworth, president of the Aberdeen Lions Club, said: "Coastguard Rescue, Aberdeen Surf Life Rescue and the Red Cross were all quickly on hand.
"I was informed that the person had had an epileptic fit. Whether this was linked to his dipping, I don't know."
Participants raise funds for their own nominated good cause, or support the Lions Club's designated charity, the Lord Provost's Charitable Trust.
Mr Southworth said this year's event had raised more than £10,000.