Aberdeen Airport 'had fastest passenger growth' in 2011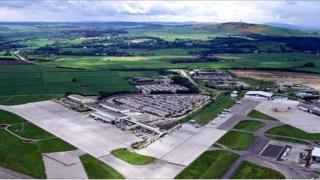 Aberdeen Airport saw passenger numbers rise faster than any British airport over the past year, figures have shown.
The statistics report 9.5% growth for Aberdeen between 1 January and 30 November 2011, compared with the same period in 2010.
It was followed by Edinburgh Airport, with growth of 6.5%, while Manchester was on 6%.
The figures have been revealed in Civil Aviation Authority (CAA) provisional data.
'Good year'
Heathrow saw 3.7% growth, while Scatsta Airport in Shetland, which mainly serves the offshore industry, experienced 3.6% growth, as did London City.
Passenger numbers at Glasgow and Liverpool airports grew by 3.2%.
Only airports which handle more than 100,000 passengers a year were included.
Aberdeen Airport managing director Derek Provan said it had been a very good year but challenges lay ahead.
He also called for Air Passenger Duty (APD) to be devolved to help passengers and the aviation industry.
Mr Provan said: "Air Passenger Duty in its current form will damage tourism and weaken Scotland's competitiveness.
"It is growing in the UK at a time when other European countries have abandoned the tax entirely because of its damaging effects.
"Despite our best efforts, it would seem the government is pushing ahead with APD as originally intended.
"We call for the tax to be devolved to the Scottish government where we feel any revenues raised would be pushed back into helping support the aviation industry and attract new routes."
A £10m 124m extension of Aberdeen Airport's main runway was officially opened in October.