CCTV image of Aberdeen attackers released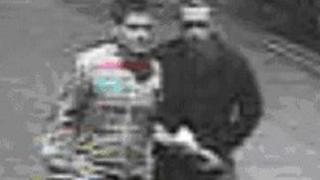 Police have released a CCTV image of two men who left another man badly injured in an attack in Aberdeen earlier this year.
The assault happened between 23:15 and 23:30 on 28 May outside a Cooperative shop in Union Street.
A 26-year-old man received treatment in hospital for a suspected fractured skull.
His attackers were both described as being between 25 and 35 years old and of slim build.
One was wearing a black and white chequered shirt and dark trousers, while the other was wearing a dark jacket and light jeans.