New home appeal made for deaf Staffordshire dog Lewis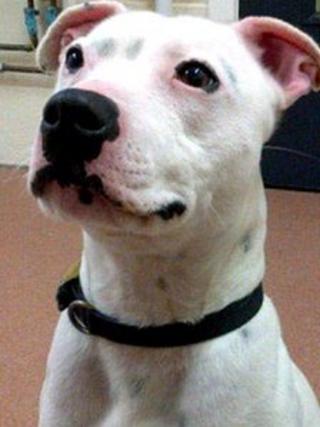 A "special" home is being sought for a deaf dog who has been in care for six months.
Lewis, an 11-month-old Staffordshire bull terrier, is being cared for by the Scottish SPCA at its Aberdeenshire Rescue and Rehoming Centre in Drumoak.
Centre assistant manager Debbie Innes said: "Lewis was born deaf and, despite his happy and loving nature, has been constantly overlooked."
The charity is looking for an owner who understands the needs of a deaf dog.
The centre assistant manager explained: "He's watched as the dogs around him have left for their forever homes but, unfortunately, no one seems to want poor Lewis.
"The reason he's had very little interest is mainly down to him being deaf, although the fact he is a staffy could also be a factor.
"It's heartbreaking as he's such a special dog who doesn't allow his lack of hearing to affect his quality of life. Lewis just loves playing, cuddling in and, most of all, his walks."
She continued: "Deaf dogs are very dependent on their owners and this creates a very strong bond.
"Having another dog in the household could be of great help to Lewis, as a fellow canine friend will act as his ears and help him understand the world around him.
"Lewis is such an amazing boy and his new owner will have a truly rewarding and happy life with him. Our staff here will be happy to offer advice to anyone interested in taking this wonderful dog on."
Anyone who can offer Lewis a home can call the Scottish SPCA animal helpline on 03000 999 999.