Driver Kevin Milne jailed for Dayan Chibor death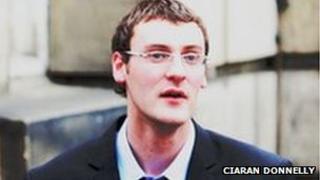 A speeding driver who killed a woman on a pedestrian crossing in Aberdeen has been jailed.
Kevin Milne, 25, was driving his Renault Clio at nearly twice the 30mph limit when he failed to stop at lights on Beach Boulevard in April 2010.
Dayan Chibor, 27, was knocked down and died instantly from head injuries.
Milne admitted causing death by dangerous driving and was jailed for four-and-a-half years at the High Court in Aberdeen.
Relatives of the victim said justice had been done.
Judge Lord Uist, in his sentencing statement, told storeman Milne: "I hope that the tragic circumstances of this accident will serve as an object lesson to all drivers, but especially young drivers, who think that they can drive at speed without any adverse consequences."
Milne was also banned from driving for 10 years.
Nigerian national Mrs Chibor had left a supermarket and was heading home when she stepped onto the crossing near the junction with Links Road.
Advocate depute Richard Goddard previously told the High Court in Edinburgh other drivers stopped as the crossing lights changed to amber.
He said a witness had described seeing Milne's car speed past, accelerating as if trying to "beat the lights".
"He then heard a bang and saw something fly up into the air," said Mr Goddard.
Mrs Chibor had started to run before she was hit by the car, he said.
Milne accelerated away after the accident, and his car was later found with a smashed windscreen.
He handed himself in to police soon afterwards.
When questioned, he admitted driving at 50mph and claimed he braked, but did not have time to slow down.
'Affected forever'
However expert analysis of CCTV footage later revealed he had been driving at 57mph.
Mr Goddard added: "Had the accused been travelling at the speed limit, Mrs Chibor would have had time to cross the road."
Grampian Police Insp Scott Mann said: "This was a terrible collision that was obviously devastating for the family and friends of Mrs Chibor and which shocked the local community in Aberdeen."
He said Mr Milne's driving "demonstrated a total disregard for the safety and wellbeing of other road users".
"It resulted in a life being needlessly lost and many other lives affected forever," he added.