Rhuaraidh Docherty jailed for Joshua Wilkie's crash death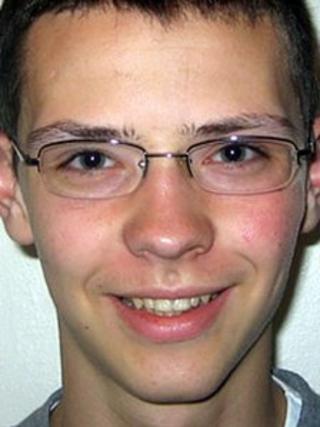 A 20-year-old student who caused the death of a school friend in a car crash has been jailed for 18 months.
Rhuaraidh Docherty was convicted of causing the two-car crash that killed Joshua Wilkie, 16, in Aberdeenshire on 5 January 2009.
Docherty, of Insch, who was 17 at the time of the crash, had passed his driving test just three months earlier.
Passing sentence at the High Court in Glasgow, Lord Bannatyne said it was a "dreadful tragedy".
Joshua's father Brian Wilkie previously said the effects of losing his son "defied comprehension".
He said: "My family will be without him for the rest of our lives. We must come to terms with living with our loss.
"The driver of the car had the responsibility of protecting my son as a passenger in his car. He failed in that responsibility.
"As a consequence of his actions, my son died.
"He will have to live with that on his conscience for the rest of his life."
An earlier trial had heard how Docherty, an engineering student at the University of Aberdeen, failed to notice or react to a stationary Ford Fiesta in the road in front of his green Peugeot 206 on the A96 near Huntly.
He swerved on to the opposite side of the A96 Aberdeen to Inverness road to avoid smashing into the back of the car in front, but collided with a black Volvo being driven by Sandra Hendry.
'Sincere remorse'
Docherty's car went into a spin, ploughed into a field and flipped onto its roof.
Joshua was pronounced dead at the scene. He was still strapped into the back seat of the car.
Defence counsel David Moggach said Docherty was of "impeccable good character" and had shown "sincere remorse".
Lord Bannatyne said no sentence would compensate Joshua's family for his loss.
Several of Docherty's relatives broke down in tears as he was led away handcuffed.
The judge also banned Docherty from the road for five years.