Woman fined for Facebook 'pikey' travellers insult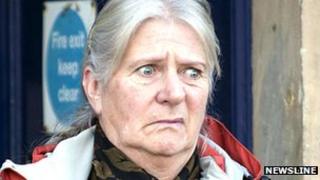 A woman who called travelling people "pikey filth" on Facebook has been fined.
Susanne Elliott, 65, admitted posting threatening and abusive comments on a page set up to discuss an encampment in Stonehaven, Aberdeenshire.
Elliott, of Steyning, West Sussex, called the group "scum".
At Stonehaven Sheriff Court, Sheriff Peter Hammond ordered Elliott to pay a £300 fine for "unacceptable, intolerant and defamatory" comments.
The court was told she wrote: "This scum needs to be moved out now or there will be big problems.
"I lived in Sussex for 25 years and they are of plague proportions down there.
"Pikey filth. They cause trouble wherever they go. They are filthy, conniving thieves who think nothing of conning or robbing old folk."
Elliott, who was living in Braemar at the time, committed the offence in February last year.
Another Facebook user reported Elliott, who has since moved back to Sussex, to Grampian Police.
Defence agent Steven Gauld said Elliott was being threatened by several members of the travelling community at the time.
'Letting off steam'
He said: "She understands it was an unacceptable way to behave.
"She attempted to remove the comments straight away.
"In her words she was 'letting off steam' and is deeply embarrassed."
Sheriff Hammond said: "These were unacceptable, intolerant and defamatory comments which can incite trouble in those who read them.
"You should know better at your age. I'm taking into account you are a first offender at the age of 65."
Leaving court, Elliott said: "I shouldn't have done it in the first place."