Scottish fishermen need 'no stone to be left unturned'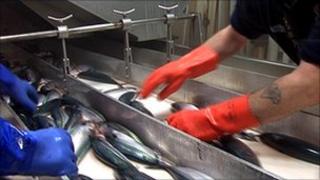 Fishing leaders say no stone must be left unturned to ensure the Scottish fishing fleet has enough days at sea to stay viable.
Boats will be able to land more fish, but face fewer days at sea, following EU talks in Brussels in December.
The issued will be discussed on Friday by the cross-sector Fisheries Management and Conservation Group.
The Scottish Fishermen's Federation said the priority was to make "the best of a bad situation".
Its chief executive Bertie Armstrong explained: "It is indeed the ultimate paradox that the Scottish industry had taken the lead in managing its own days at sea and introduced several conservation-led incentives for fishermen to gain extra days, only to be punished with further cuts in effort.
"Now, there is a real question mark whether there are enough days left for our fleet to catch our quotas, which in turn threatens relative stability and our future quota rights.
"The Scottish fleet is facing an incredibly difficult year, and it is vital that both Scottish and UK ministers make fishing a top economic priority for support and growth, which will include the application of a common-sense approach to fisheries management."
The Fisheries Management and Conservation Group brings together fishermen's representatives, government officials, scientists and other groups on a quarterly basis to help guide fisheries management policy in Scotland.