Farmer's death as dog moved tractor 'could have been avoided'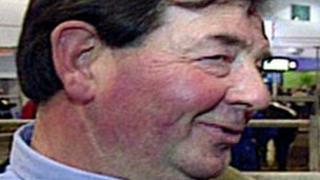 The death of a farmer crushed by a tractor after his dog hit a lever in the cab could have been prevented by safety precautions, a sheriff has ruled.
Harry Emslie, 67, died after the bucket loader of his tractor pinned him against the wall of a barn at his farm at Mintlaw, Aberdeenshire, in 2008.
Sheriff William Summers said the dog in the cab knocked the drive lever on the steering column of the vehicle.
He said Mr Emslie could have switched the tractor engine off first.
Sheriff Summers said in his written determination: "If Mr Emslie had done any of parking the vehicle parallel to the wall rather than perpendicular to it, switching the engine off, engaging neutral gear, engaging the handbrake or taking the dog out of the cab, this accident would not have occurred."
Mr Emslie's body was later discovered by his daughter and her partner.
Lawyer David Gibbs, who was representing the family, said during the fatal accident inquiry at Peterhead Sheriff Court: "The fact the deceased's dog appears to have been in the cab being the only explanation for the lever being pushed forward again is of no great solace to the deceased's family."
Mr Emslie was a champion cattle breeder and show judge.