Auchenblae hotel explosion victim given damages date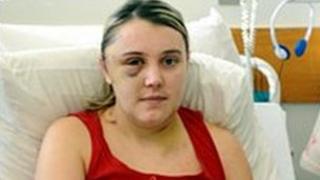 A barmaid injured in an explosion at an Aberdeenshire hotel in 2009 has been given a court date in her bid for damages.
Danielle Ormond was 26 when she was trapped in rubble at the Drumtochty Arms in Auchenblae.
The damages action will go to court on 3 July, her solicitors have said.
Ms Ormond said: "I welcome the fact that the case is moving forward." Lawyer Chris Gordon said: "It has been a long wait for justice."
Speaking from her bed at Aberdeen Royal Infirmary after the explosion, which also injured two men, Ms Ormond said she was "lucky to be alive."
She had been on her way to the cellar when the blast happened.
The next thing she could remember was her name being shouted by a man and woman from the village who had been digging though the rubble to find her.
The hotel, which had recently been refurbished, was demolished after the explosion.