Moray Council secures Forres flood scheme funding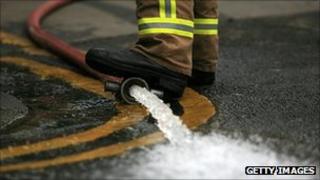 Moray Council has secured more than £35m of funding towards the Forres Pilmuir flood alleviation scheme.
The Scottish government gave the project the go-ahead last March after a public inquiry.
Now local authority body Cosla has approved the funding for the scheme, which aims to protect almost 1,000 properties in the western part of Forres.
Construction work could start in the autumn and take two years to complete.
Moray Council will contribute about £9m towards the £44m cost of the scheme.
The funding is distributed by Cosla, although individual awards must be approved by Scottish government ministers.
Neighbouring Highland Council is also seeking funding for a scheme to protect almost 1,000 properties in the centre of Inverness.
The council wants £16.7m towards the scheme River Ness Flood Alleviation Scheme (Tidal Section), which is estimated to cost £20m.
It comprises two sections - the central section between Friars Bridge and Ness Bridge, and the lower section from Friars Bridge north to the harbour and the mouth of the River Ness.
Under construction
Moray Council's deputy convener, Allan Wright, said securing the funds had ended uncertainty over the Forres project.
"As well as protecting existing properties, this scheme will make the area much more attractive to new business ventures," he said.
"A great deal of work has gone on in the background to get Scottish government and Cosla council leaders to agree special grant treatment for major new flood prevention schemes."
Forres Pilmuir is the fifth and final in a series of flood alleviation schemes to be constructed in Moray, an area badly affected by flooding.
The first of the schemes, at Lhanbryde, was completed about four years ago.
It was followed by the Burn of Mosset scheme at Forres and a project at Rothes.
The largest of the five schemes is under construction in Elgin at a cost of £86m. Due to be completed by spring 2015, Moray Council said it was the biggest single flood alleviation scheme ever undertaken in Scotland.