Gas furnaces toppled at St Fergus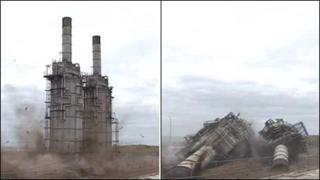 Two 100ft-tall (34m) furnaces at the St Fergus gas terminal in Aberdeenshire have been toppled.
The two gas-fired furnaces were removed from the decommissioned Miller site, where they have stood since 1992.
Gas from the Miller oil field in the North Sea was taken ashore at St Fergus by energy giant Total before being piped to Peterhead power station.
In 2007, Miller reached the end of its economic oil and gas producing life and the decommissioning process began.
The procedure of 'toppling' the furnaces to ground level was conducted by Keltbray using small, controlled explosive charges.
A number of safety measures were put in place to guarantee safety at the St Fergus terminal, which receives and processes gas from more than 20 North Sea fields.
Total said furnaces would now be dismantled and the scrap steel recycled.