Stolen World War II rescue boat heading home to Norway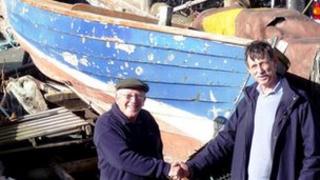 A fishing boat stolen for a dramatic escape during World War II has begun its journey back to Norway from Scotland.
Four Norwegians desperate to escape the Nazi occupation took the boat and crossed the North Sea to the Aberdeenshire coast in 1941.
The boat was renamed Thistle and then worked out of Stonehaven, before being donated to Johnshaven Heritage Society.
It is being sent home after children of one of the original escapees traced it.
It was being driven to Aberdeen and another vessel is then transporting the boat back to Norway.
It is understood the original wartime perilous journey was almost ended shortly after it started when the group was intercepted and machine gunned by a German plane.
'Absolutely delighted'
They returned to land and set out again with the boat camouflaged by tree branches, and completed the long journey.
John and Martin Berthelsen, sons of escapee Carl Berthelsen, said they were thrilled to find the vessel which had played such a dramatic part in their father's life.
Don Marr, of the Johnshaven Heritage Society, said: "We in Johnshaven are absolutely delighted to be able to return this historic boat to where she came from."