Gordon Morrice murder trial: Man 'cocky' after Aberdeen attack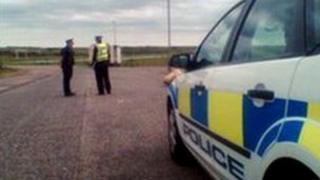 A teenager accused of attacking a suspected paedophile, who later died, looked "cocky" after the incident in Aberdeen, a murder trial has heard.
Gordon Morrice, 57, died several months after being injured at playing fields in Aberdeen's Golf Road in 2010.
Robert Laird, 25; Paul Yates, 38; Williamina Stewart, 37; Hector Stewart, 30; and Paul Noble, 17, deny murder.
Witness Brian Hunter told the High Court in Aberdeen that Mr Noble acted as if he was the "big man".
Mr Hunter, 18, said he watched his best friend punching the man.
Williamina Stewart's defence counsel Jock Thomson QC asked the witness if he had seen Mr Noble "jumping on" the man he saw him punching.
The witness said he could not rule out it happening when his back was turned but thought he would have noticed such an attack.
Mr Thomson asked him why he would turn away.
Mr Hunter replied: "Why would I want to watch an old man getting beaten like that?"
Jumping 'possible'
Mr Thomson said: "So it's possible that Paul Noble grabbed the old guy, threw him in the ground and jumped up and down two or three times while the guy was in the ground with his whole body weight?"
The witness replied: "It's possible."
Hector Stewart's defence solicitor Ian Paterson asked the witness how his friend had appeared when he walked away following the alleged attack.
He replied: "Cocky. As if he was the big man."
The trial previously heard witnesses claim some residents in Seaton had come to suspect Mr Morrice of being a paedophile after he asked to bounce on a trampoline with two young girls.
Pc William Thom, of Grampian Police, told the trial he ran checks on Mr Morrice after he was reported to police over the trampoline incident but his checks returned clear and he was escorted home.
Mr Morrice died almost nine months after the incident.
The trial, before Lord Uist, continues.