Donald Trump talks held over wind farm plans off Aberdeen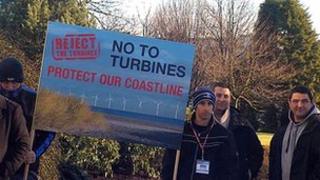 Talks are taking place between The Trump Organisation and developers of a planned offshore wind farm off Aberdeen amid a row between the two sides.
US tycoon Donald Trump has halted some work on his golf resort at Balmedie until a decision is made on the nearby turbines.
He accused First Minister Alex Salmond on Thursday of seeming "hell bent on destroying Scotland's coastline".
The Scottish government said Scottish waters had great potential.
The European Offshore Wind Deployment Centre is a £150m venture by Vattenfall, Technip and Aberdeen Renewable Energy Group.
Mr Trump has already said he will abandon his plans for a hotel and houses at his golf resort on the Menie Estate if the nearby wind farm is approved.