Witness tells of stamping attack at Aberdeen murder trial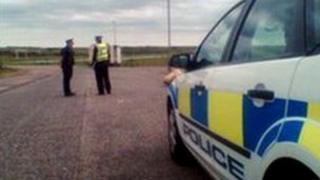 A woman has told an Aberdeen murder trial how she watched an accused stamp on the head of a suspected paedophile.
Gordon Morrice, 57, died several months after being injured at playing fields in Aberdeen's Golf Road in 2010.
Robert Laird, 25; Paul Yates, 38; Williamina Stewart, 37; Hector Stewart, 30; and Paul Noble, 17, deny murder.
Witness Annear Currier told the High Court in Aberdeen she dialled 999 as Mr Laird "battered" a man.
The court heard that she later told police that the man who was attacked did not fight back and "didn't have a chance".
Ms Currier, 23, said she watched the attack from her window, explaining how a group of eight people had surrounded an "old guy" while two males attacked him.
Advocate depute David Nicholson asked if she recognised who was kicking and stamping on the man.
The witness replied: "I only know one - Bob."
She then pointed to Mr Laird in the dock.
The trial previously heard witnesses claim some residents in Sea ton had come to suspect Mr Morrice of being a paedophile after he asked to bounce on a trampoline with two young girls.
Mr Morrice died almost nine months after the incident.
The trial, before Lord Uist, continues.