Speed camera set on fire on A90 in Aberdeenshire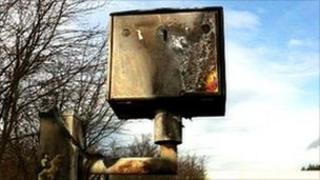 Police have appealed for witnesses after a speed camera was set on fire in Aberdeenshire.
The detector was targeted on the A90, northbound, at Stonehaven, near to Mill o' Forest at about 03:00.
PC Mark Irvine, of Grampian Police, said: "This type of behaviour is not only criminal but also highly irresponsible.
"The camera is there for a reason: to stop motorists speeding on what is a very busy section of road."