Scotland's free eye tests 'benefiting rich more than poor'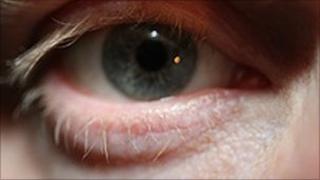 Scotland's policy of free eye tests has benefited the wealthier more than the poor, according to a study from the University of Aberdeen.
Researchers found educated people from richer households were more likely to take up the offer of free eye tests.
However the policy did lead to Scotland catching up with England in terms of the number of people overall who had regular eye tests, the study found.
The authors said more effort should be made to inform all of the benefits.
Free examinations funded under the NHS were introduced by the Scottish government in April 2006.
Dr Alexandros Zangelidis, who led the study, said: "Prior to the policy introduction Scotland had the lowest proportion of its population having an eye test, however by 2008 the relative difference between Scotland and the other regions had diminished.
"Our analysis suggests that people with low education and those from poorer households not only have overall lower levels of eye examinations, but had a weaker response to the policy when compared to highly educated people and those from wealthier households.
"As a result of that the inequality in eye care utilisation in Scotland has actually risen."