Union warning over offshore flying in extreme weather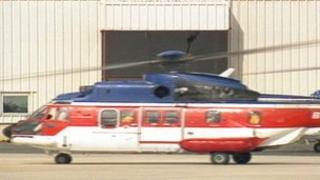 The union representing offshore oil industry pilots has said its members could refuse to fly in extreme weather.
The warning from Balpa comes on the 20th anniversary of the Cormorant Alpha helicopter crash when 11 people died.
Balpa said pilots had concerns over a new safety device - a net system for retrieving casualties from the water.
It is designed to be used when fast rescue craft cannot be deployed but the union said all flying should be suspended if conditions are so severe.
Industry body Oil and Gas UK said the device was in line with Health and Safety Executive policy.
The Dacon Scoop system involves a net attached to a hydraulic arm which would scoop casualties out of the water on to ships.
Fast rescue craft cannot be deployed in extreme seas and the scoops would be used as a last resort.
However Balpa said that if conditions were so bad, then flights should be cancelled.
Some of the men from the Cormorant Alpha crash, east of Shetland in 1992, had been left stranded awaiting rescue in freezing conditions.
Prayers were said in Aberdeen on Wednesday to remember the men.