Campaigners call for re-think on Aberdeen roe deer cull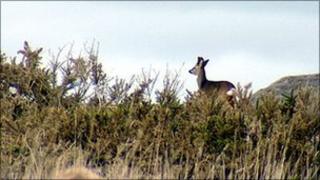 Three Aberdeen community councils have sent a last minute appeal to the city authority asking that a planned deer cull be abandoned.
Several animals face being killed at Tullos Hill, in order to protect about 80,000 new trees being planted.
Aberdeen City Council has said the cull was vital to preserve the area.
However campaigners have said the scheme was not "reason enough to kill deer who have been living on Tullos Hill for generations."
Three community councils, representing neighbourhoods close to Tullos Hill, sent a strongly-worded open letter to the city council accusing it of underhand tactics to get the backing for the city's "tree for every citizen" initiative.
They claim that "the limited public consultation was seriously flawed and made no mention of a deer cull."
They also say that the local community's opinion on the matter has been dismissed.
Kincorth and Leggart, Nigg and Torry community councils have described the deer as a valuable resource and demanded that the authorities "cancel the cull".
'Severe embarrassment'
John Robins of Animal Concern advice line welcomed the intervention of the community councils. He described it as a "severe embarrassment to Aberdeen City Council.
"They can no longer deny that opposition to the deer cull is coming from outwith Aberdeen," he said.
In response, Aberdeen City Council said: "The consultation for phase two of the "tree for every citizen" scheme included input from community councils and community groups, all of which were largely in favour of the tree-planting programme.
"It is a statutory requirement of Aberdeen City Council to manage deer on its land and this would be taking place on Tullos Hill whether there was a tree-planting scheme or not.
"The roe deer population on Tullos Hill is currently much higher than the land can support. There is very little variety of vegetation growing and deer suffer as a result."