Dr Maitland Mackie installed as rector at University of Aberdeen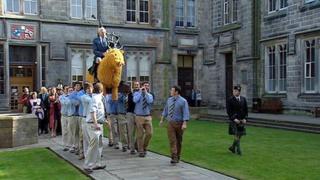 Businessman Dr Maitland Mackie has been installed as the new rector of the University of Aberdeen.
Mr Mackie, chairman of Aberdeen-based Mackie's ice cream firm, succeeds Scotland The What? star Stephen Robertson.
The ceremony ended with Mr Mackie being carried by the student mascot, Angus the Bull, to buy a traditional round of drinks.
He said: "It is an honour to represent students of the university."
He added: "This brings back memories of my own student days at the university 55 years ago - a wonderful experience which has never left me."
Mr Mackie graduated from the University of Aberdeen with a BSc in agriculture in 1958 and MA Hons in economics in 1971.
He was awarded an honorary Doctor of Laws degree in 1996.