Total reports 'significant progress' over Elgin gas leak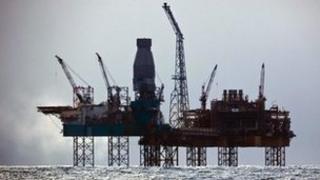 Total has reported making "significant progress" in efforts to stem a gas leak on its Elgin platform in the North Sea.
The operator said it had moved ahead with preparatory work for its planned well control operation and the drilling of primary and back-up relief wells.
It added all operations to stop the leak were going according to plan.
The platform was evacuated after gas started leaking on 25 March. Tests on fish from close to the gas leak have shown they are "untainted".
On Thursday, a team of experts boarded the platform as part of Total's "well kill" plans which are likely to involve plugging the leak with mud.
Total said "additional valuable information" was gathered to prepare for the well control operation and to carry out essential cleaning of key areas around the wellhead, where waxy deposits had accumulated.
The operator added several further helicopter flights may be required ahead of the positioning of a well intervention support vessel alongside the Elgin complex.
Two rigs are being mobilised for the drilling of the relief wells.
The Sedco 714, which is expected to start drilling first, is at a standby location outside the Elgin exclusion zone, where it is awaiting completion of site surveys for the final anchor positions.
The second rig, the Rowan Gorilla V, is suspending operations on the nearby West Franklin field before repositioning itself to drill the second relief well.
Total said further updates would be issued on a regular basis.