Granite City Rally crash spectator's life 'not at risk'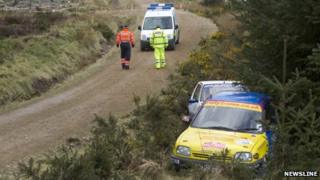 Injuries suffered by a man when a car left a forest track during a rally near Banchory are no longer regarded as life-threatening, police have said.
Joe Bolger was among a group of Granite City Rally spectators who went to help when a car went off the road on Saturday.
Mr Bolger suffered leg and pelvic injuries when another car then crashed. Three others were also hurt.
Investigations into the incident are continuing.
Grampian Police said Mr Bolger was recovering in hospital and they were satisfied his injuries were no longer life-threatening.
The other four injured were David Tait, Jonny Smith and Kenny Clubb.
The Granite City Rally is billed as "the biggest motorsport event in the north east of Scotland".
The course runs for 44 miles (71km), in five stages, and is the third round in the Scottish Rally Championship.