Scottish fishermen 'netted £500m of landings in 2011'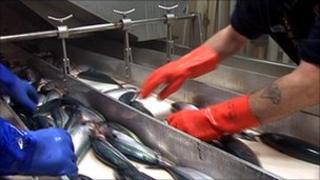 Landings by Scottish fishermen reached at 10-year high in 2011 at £500m, the Scottish government has said.
Provisional statistics show the value of landings - from 358,000 tonnes of fish - were up 15% on 2010.
Scottish Fisheries Secretary Richard Lochhead said the increase was driven by mackerel, with landings worth £164m, and prawns worth £83m.
Mr Lochhead said: "It's encouraging that the value of the Scottish catch has hit the highest level in a decade."
He explained: "The seafood landed by our fishermen is increasingly sought after, with most prices on the up.
"The value of whitefish landings - led by cod, haddock and monkfish - was generally stable year-on-year, while a modest reduction in fleet size reflects trends towards greater productivity and higher landings value per vessel.
"With mackerel accounting for nearly a third of the overall total, it underlines how important this stock is to Scotland.
"That's why the EU must urgently progress plans for sanctions to address the reckless overfishing of mackerel by Iceland and the Faroes. Otherwise this valuable fishery may not be there in the years to come."
Mr Lochhead added: "This success comes against the backdrop of a continued focus by Scottish fishermen on long-term stock conservation, so that catch levels can remain sustainable for the years to come."
The number of active fishing vessels based in Scotland was 2,096 at the end of 2011, down by 54.
The number of fishermen employed on Scottish fishing vessels at the end of 2011 was said to be 5,005, a drop of 231.
Bertie Armstrong, chief executive of the Scottish Fishermen's Federation (SFF), said: "We welcome the increase in the value of the catch landed by the Scottish fleet, which is good news for the industry and the Scottish economy as a whole.
"However, it would be wrong to conclude that all is well with the industry - for example on the international scene a chill wind is blowing in the shape of the gross over-fishing of the valuable north east Atlantic mackerel stock by Iceland and the Faroes, which provides an uncertain future for our mackerel fishermen.
"For other fishing industry sectors, the figures also mask underlying problems such as increased operating costs and the continual tightening of control restrictions, particularly the number of days that vessels can put to sea.
"Indeed, some whitefish skippers are reporting their highest ever turnover yet lowest ever levels of profitability because of this soaring fuel expenditure, combined with the ever increasing costs of leasing extra quota to try and make their boats viable."