Aberdeen high rise residents get fire advice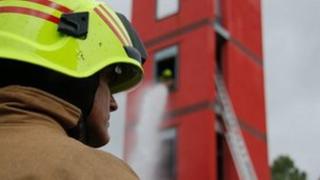 Residents in Aberdeen's high rises have been urged not to leave their flats in the event of fire in another part of the building.
It is one of several messages Grampian Fire and Rescue Service has issued as part of a safety drive.
Early on Saturday, firefighters attended a fire in a multistorey block in the Seaton area of the city.
The blaze was in a ground floor bin room. The Northsea Court tower block did not have to be evacuated.
In the safety drive, the service said that if residents discover a fire in their own home they should quickly get everyone out, closing doors behind them to prevent smoke and fire spreading.
However, if the blaze is in another part of the high rise, residents should dial 999 and stay in their flat with the door closed.
Firefighters will say if they need to evacuate, the service said.
Garry Burnett, of Grampian Fire and Rescue Service, said: "Instinctively people will grab their children and run out of their home to the nearest stairway and down.
"But, because these high rise buildings are built floor on floor, the smoke will travel through these emergency stairways.
"Staying within your premises would save some smoke inhalation."