Paul Hawksworth admits Fraserburgh Academy roof protest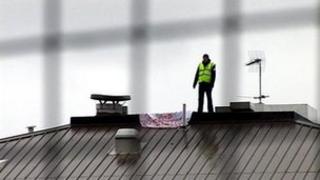 A man has admitted breach of the peace after a protest on the roof of an Aberdeenshire school.
Police were alerted to reports of a protest at Fraserburgh Academy on Wednesday morning.
Grampian Police said the man was "successfully negotiated off the roof uninjured" later in the day.
Sentence on Paul Hawksworth, 51, of Fraserburgh, was deferred at Peterhead Sheriff Court.
He had been carrying a banner saying he was "starved and persecuted".