Ill health 'may have contributed' to Shetland fisherman Neil Smith's death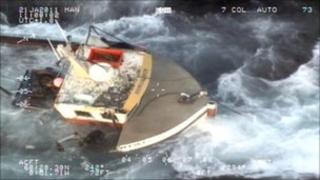 Ill health may have contributed to the death of a fisherman off Shetland, a sheriff has said.
Neil Smith, 54, the skipper and owner of the creel boat Bread Winner, died in January last year.
He was dragged overboard and drowned five miles (8km) east of Score Head, Bressay.
After a fatal accident inquiry, Sheriff Philip Mann said the accident could have been prevented if Mr Smith had stayed in the wheelhouse of his boat.
He said in the light of a post-mortem examination, it was most likely Mr Smith had suffered a heart condition and may have been compelled to leave the wheelhouse for air - but there was no way to be sure.
Mr Smith's body was recovered eight days later entangled in a string of creels.
The FAI into the Cunningsburgh man's death took place at Lerwick Sheriff Court.
The inquiry heard that the fisherman had been laying creels from his boat when he got his right leg trapped in rope.
He was dragged overboard and drowned.
Mr Smith, who was alone on the boat, was described as normally being a very safe worker.