Northern Isles emergency tug cover extended till end of May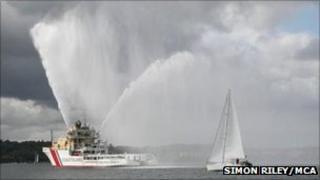 Existing emergency tug cover for the Northern Isles has been extended for another month.
The move is to allow the UK government more time to reach a deal with the oil and gas industry over future provision.
The long term plan is to replace the dedicated coastguard tug Anglian Sovereign with standby vessel Grampian Frontier.
Orkney and Shetland MP Alistair Carmichael said funding had been agreed for cover until the end of May.
He told BBC Scotland it was important the details of the final deal were ironed out.
He said: "It is now well known the shape of future provision is going to rely on a tug being made available by the offshore oil industry as and when it is needed.
"There are, however, a lot of other issues around that, about training, about equipment, about indemnification. These are the things that are being tied down now.
"It is one of these cases where it is best to get it right, rather than to get it quick."
The Anglian Sovereign was due to have been withdrawn from service in March but was given a last-minute reprieve to allow an agreement over cover to be reached.
Another vessel, the Anglian Monarch, which provided coastguard cover off west Scotland, based at Stornoway, was withdrawn from duties in March when interim UK government funding for it ended.