Serco Ltd selected for Northern Isles ferries service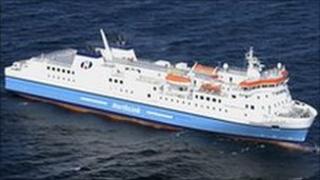 Serco Ltd has been selected as the preferred bidder for the Northern Isles Ferry services contract.
The Scottish government said the total value of the new contract represented an investment of more than £243m over six years.
Transport Minister Keith Brown pledged the deal, begining this summer, would maintain and improve services.
The services between Aberdeen, Kirkwall and Lerwick and between Scrabster and Stromness have been run by NorthLink.
Mr Brown said: "The needs of vital time sensitive freight exports like fish and seasonal livestock and vital imports like supermarket goods will be met, and the services available for passengers will be improved.
"Passengers will see improvements to the journey experience with improved ticketing arrangements, premium reclining seats added on board overnight services, and improved catering, hospitality and customer care facilities.
"Crucially, clear commitments that crossing times, including the 90 minute crossing between Scrabster and Stromness, will also be retained."
'Long wait'
After a statutory 10 day standstill period during which a contract cannot be let, the contract will come into effect on 15 May.
Serco Ltd will assume control of the Northern Isles ferry services from summer 2012.
Chief Executive of Orkney Islands Council, Albert Tait, welcomed the announcement and said there had been a "long wait" for it.
He said NorthLink Ferries had provided a "safe and reliable service" over the past six years and had set a high standard for the new operator to match.
He added: "What's missing at the moment is information about the timetable arrangements Serco intend to operate on the Pentland Firth and the Orkney, Aberdeen and Shetland routes.
"NorthLink provide a high level of local employment and it is vital that Serco maintain this.
"We will be seeking clarification of these matters as well as other detailed information about the service Serco will provide as a matter of urgency."