Union concern over Northern Isles ferry contract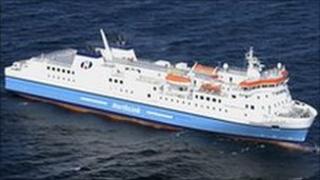 The maritime union Nautilus International has said it is concerned about the announcement of Serco as preferred bidder for the Northern Isles ferry contract.
The union, which represents 23,000 maritime workers, has called for urgent meetings on the future of the routes.
It has claimed the bidding process has caused "alarm and uncertainty".
Announcing the preferred bidder status, Transport Minister Keith Brown said it would improve the "journey experience".
The six-year contract for the ferry services is worth over £243m.
Nautilus general secretary Mark Dickinson said: "Once again, the bidding process for Scotland's lifeline ferry services has sparked unnecessary alarm and uncertainty.
"We strongly dispute the need to put these essential services out to tender every six years, with all the resulting fears for the future that this generates for staff and public alike."
The union said it would seek a meeting with Serco to discuss pay, conditions and pensions provision for people employed by the current operator NorthLink.
Crossing times
Transport Minister Keith Brown said of the proposed new operator: "Passengers will see improvements to the journey experience with improved ticketing arrangements, premium reclining seats, added on board overnight services, and improved catering, hospitality and customer care facilities.
"Crucially, clear commitments that crossing times, including the 90-minute crossing between Scrabster and Stromness, will also be retained."
Serco Ltd will assume control of the Northern Isles ferry services from summer 2012.
Chief executive of Orkney Islands Council, Albert Tait, said last week: "What's missing at the moment is information about the timetable arrangements Serco intend to operate on the Pentland Firth and the Orkney, Aberdeen and Shetland routes.
"NorthLink provide a high level of local employment and it is vital that Serco maintain this."