Total's Elgin platform gas leak plug 'a success'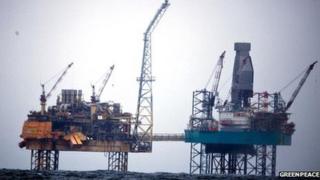 The operation to plug the gas leak on the Elgin Platform in the North Sea has been a success, according to oil firm Total.
The company's platform, 150 miles east of Aberdeen, was evacuated when the gas began leaking on Sunday 25 March.
The leak was stopped last week by pumping heavy mud into the well.
Total said close monitoring since then had shown that the operation was a success. The platform will now be re-manned.
The well will then be plugged with concrete, a process expected to take several weeks.
Restarting fields
Yves-Louis Darricarrère, president of exploration and production at Total, said: "While we will obviously take on board any lessons to be learned, I want to congratulate all the teams, including our partners that have been mobilised with the only focus to stop the leak.
"Safely evacuating everyone from the platform and adjacent drilling rig, preventing any serious environmental impact and recovering control of the G4 well, is a highly commendable effort from the teams involved.
"Now, it is important that we continue to work together with the authorities to conclude the ongoing investigations, take into account lessons learnt and define the necessary conditions for restarting production of the Elgin-Franklin fields."