Orkney marine energy experts to help build US centre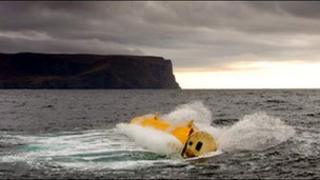 Orkney marine energy experts will help design a new renewable energy centre off the north west coast of the US.
Staff from the European Marine Energy Centre (EMEC) will work with the Oregon Wave Energy Trust and partners to set up the Pacific Marine Energy Centre.
It is hoped the new centre will harness the significant wave energy resource available along the US west coast.
The development will offer the region's first standardised testing facilities in real-world conditions.
EMEC currently operate open sea test facilities for wave and tidal energy converters in Orkney.
The centre already has links with a wave and tidal test centre in Nova Scotia, Canada.
Richard Morris, commercial director of EMEC, said: "There is significant wave resource available to the US in the pacific north west and the creation of the Pacific Marine Energy Centre will deliver a vital resource in terms of capability for testing grid-connected devices.
"EMEC is uniquely placed in terms of providing consultancy support to countries wishing to set up marine energy test sites, through our ground-breaking and world-leading operations in the Orkney Islands."