Police probe 'unregistered dentist' allegation in Aberdeen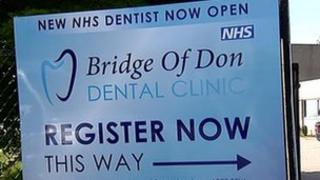 Police are investigating allegations of an unregistered dentist working at an Aberdeen dental practice at the centre of an infection control scare.
The Grampian Police inquiry is ongoing at the Bridge of Don Dental Clinic and Research Centre in Silverburn Crescent.
A spokesman for the dental practice said the sole dentist working there was fully registered.
The clinic made news when it was announced patients were being contacted due to infection control procedures.
NHS Grampian wrote to more than 900 patients, telling them that the risk of infection was low.
An inspection in March found that infection control procedures - including instrument decontamination - did not meet national standards.
'Co-operate fully'
A spokesman for Bridge of Don Dental Clinic and Research Centre said: "The sole dentist working at our clinic is registered with the General Dental Council and with the NHS to treat list patients.
"NHS Grampian are satisfied we are meeting national standards and procedures.
"If there is a police investigation we will co-operate fully with inquiries, as we have done with NHS Grampian."
When the infection control news first emerged on Tuesday, clinic owner Dr Ronnie Barogiannis said: "We have invested £400,000 of our own money to get the clinic up and running and fitted out and we believe it to be one of the best equipped in Aberdeen.
"We hope that in time we can show we are providing the highest of dental standards."
The GDC said there was no dentist with the surname Barogiannis on its register.
A spokesperson added: "However, the GDC is investigating whether any criminal offences under the Dentist's Act have been committed.
"The GDC do not divulge specific details about on-going investigations."