Nat Fraser trial: Defence QC says Arlene murder case 'is difficult'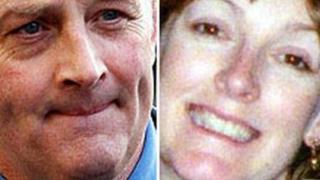 The case of Nat Fraser - accused of murdering wife Arlene - is "blighted by hindsight and assumption", a court has heard.
Mr Fraser, 53, denies murdering his 33-year-old wife, who vanished from Elgin, Moray, in 1998.
John Scott QC addressed the jury in his closing defence speech at the High Court in Edinburgh.
Mr Scott said it was a "difficult and anxious" case and he argued much of the Crown evidence was "unreliable".
Mr Fraser claims that if his wife was murdered, the man responsible could be Hector Dick.
Mr Scott questioned the reliability of prosecution witnesses Mr Dick, of whom he said: "Even he cannot remember the truth."
He said: "Blow away some of the smoke and an awful lot of the important points come back to Hector Dick."
Mr Scott also criticised "a flawed police inquiry".
Accused consistent
The defence QC said Mr Fraser not giving evidence did not take the Crown any closer to proving guilt.
Mr Scott said: "Nat Fraser has been consistent in saying one thing: He did not kill his wife and he was not involved in her disappearance."
The trial has heard allegations that Mr Fraser's motive was that his wife was leaving him, and had seen a lawyer about getting a pay-off.
Mr Scott said: "If that is a motive for murder, then this country - Scotland we are talking about - has thousands of men police will need to keep a close eye on."
Advocate depute Alex Prentice QC, prosecuting, said in his closing speech on Friday that Mr Fraser had "instigated and organised" his wife's murder.
The jury is expected to be sent out to consider its verdict on Tuesday.
The trial is now in its sixth week.