Nicola Sturgeon meets widow of dementia man who had '106 carers in a year'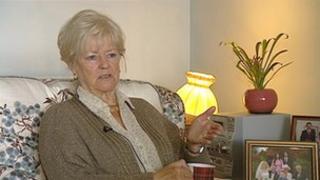 An Aberdeen woman who said her husband had 106 carers for his dementia in the space of a year has met Health Secretary Nicola Sturgeon.
Jeanette Maitland said the different people sent by agencies working for Aberdeen's social work department contravened her husband Ken's dignity.
Mr Maitland died from a dementia-related illness on 12 May aged 72.
Mrs Maitland attended the meeting with fellow members of the National Dementia Carers Action Network.
The meeting was described as positive and further talks are planned.
Aberdeen City Council chief executive Valerie Watts has pledged to look into the case.
Mrs Maitland previously told BBC Scotland she initially wrote down the names of her husband's carers so that she could get to know them.
She said: "I kept writing, writing, writing, until we're here where we are today with 106 carers.
"Where is respect for his dignity? I feel I should have sold tickets."
'Transforming care'
A Scottish government spokeswoman said: "Scotland's National Dementia Strategy is helping to drive real improvements, including better support for families and carers, and is laying the groundwork for transforming care to meet the challenge of an increasing number of people with the illness.
"We announced a national commitment from next year of a guaranteed minimum of a year's post-diagnostic support by a named person for people with dementia and their families and carers.
"We are also prioritising improvements in the response of acute general hospitals, including engaging with people with dementia and their families who have had experience of hospital care.
"In addition, a programme of inspections into the care of all older people in hospitals by Healthcare Improvement Scotland is continuing."