Aberdeen oil firms £160,000 embezzler Dawn Peter jailed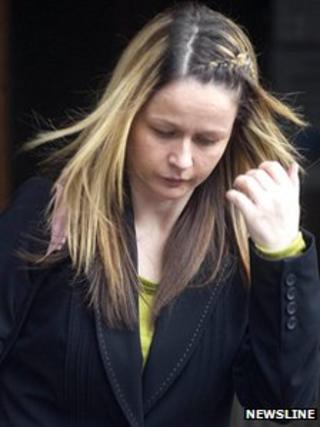 An Aberdeenshire woman who embezzled more than £160,000 from two oil firms has been jailed.
Mother-of-one Dawn Peter, 33, of Tarves, admitted taking the money from Aberdeen firms RBG and Helix Energy Solutions.
Sheriff Malcolm Garden sentenced Peter to two years and four months at Aberdeen Sheriff Court for abusing a position of trust.
She looked shaken as she was led away in handcuffs to start her sentence.
Peter embezzled the money over three years while working as a payroll boss by using tax returns to make 69 separate payments to herself.
Her previous employers are now suing her for the total amount embezzled.
Peter took more than £70,000 from RBG, then went on to take more than £91,000 from Helix Energy Solutions.
'Succumbed to temptation'
Defence lawyer Steven Borthwick said Peter had already handed over nearly £10,000 in compensation to the companies, and anticipated she could hand over a potential £80,000 from the sale of her house.
He said: "Effectively Mrs Peter succumbed to temptation in the face of mounting debt and a debt situation which quite simply spiralled out of control.
"When this matter was discovered it will be apparent that Mrs Peter was living substantially beyond her means.
"That was a position that was hidden from her partner and as a result of these matters coming to light, the marriage has broken down."