No Crown Office action over capsize of Bourbon Dolphin off Shetland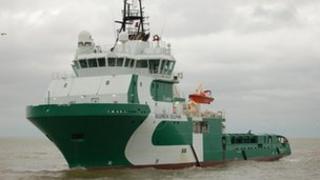 No criminal proceedings are to be taken after an offshore vessel sank off Shetland with the loss of eight lives, the Crown Office has said.
The Bourbon Dolphin was pulling a heavy anchor chain which suddenly slid across the side of the deck and started to drag the vessel over in April 2007.
The two main engines stopped and it capsized.
The Crown Office said there would be no proceedings due to insufficient evidence.
The wreck of the ship sank three days after the incident in the Chevron field, 85 miles west of the Shetland coast.
The captain, Oddne Arve Remoy and his 14-year-old son David Remoy, who was visiting the ship, were among the victims.
Seven of the 15 crew survived.
A Crown Office spokesperson said: "The procurator fiscal received a report from the Health and Safety Executive in connection with the rig move which led to the capsizing of the anchor handling vessel Bourbon Dolphin.
"After extensive investigation by our specialist health and safety division, including interviews with key witnesses, and careful consideration of all the facts and circumstances, Crown Counsel has concluded there should be no proceedings against the companies reported, due to there being insufficient evidence."
In earlier reports presented to a Commission of Inquiry set up by the Norwegian government, doubts were raised about the ability of both the vessel and its crew to handle large anchors in such deep water.