Carbon monoxide killed crewman Artis Sterkis on Starlight Rays boat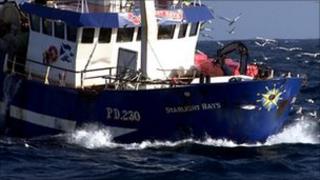 A crewman on board a fishing boat died from carbon monoxide poisoning while trying to pump out water from the vessel, a report has revealed.
Artis Sterkis, 37, collapsed on the Peterhead-registered Starlight Rays in August last year.
The Marine Accident Investigation Branch (MAIB) said he had been using a portable petrol engine-driven pump to remove oily water from the fish hold.
The MAIB has issued a warning to the fishing industry as a result.
Starlight Rays featured in the BBC television series Trawlermen, and was performing stand-by duties for the oil industry when the incident happened in the Devenick field, 155 miles off Aberdeen.
The MAIB report said the pump's petrol engine ran for more than an hour in a compartment with no mechanical ventilation and little natural air circulation.
The crewman who had been helping Mr Sterkis collapsed while trying to rescue him.
The vessel's watchkeeper eventually managed to retrieve the crewman.
Mr Sterkis was taken to hospital by rescue helicopter, but never regained consciousness.
'Risking lives'
The report said: "The accident demonstrated inadequate consideration and control of hazardous work activities on board Starlight Rays.
"The rescue efforts included a commendable response from the crew of the support vessel Skandi Carla, but showed that it is very difficult to rescue a crewman from a compartment with a dangerous atmosphere on board a fishing vessel, without risking the lives of the rescuers.
"Petrol engine-driven pumps are commonly carried on board fishing vessels as salvage and emergency fire pumps.
"The investigation found that, without careful thought and preparation, many of these pumps could be ineffective.
"This can lead to them being used inappropriately, with lethal consequences."
It concluded: "The MAIB has issued a safety flyer to the fishing industry to highlight the dangers identified from this accident."