Cancer girl Olivia Downie arrives back in Scotland from Mexico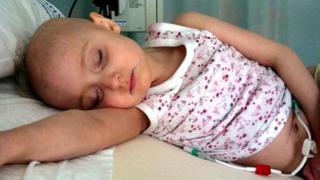 A seven-year-old Fraserburgh girl with terminal cancer, who has been on life support in Mexico, has flown back to Scotland after more than £150,000 was raised.
Olivia Downie and her family flew out earlier this month to get treatment for neuroblastoma, which she was diagnosed with three years ago.
The treatment failed and efforts were launched to get her home.
She arrived in Aberdeen at about 13:40 on Wednesday.
Olivia was helped to an ambulance by paramedics, which left for Royal Aberdeen Children's Hospital at about 14:10.
Mark Jones, president of Florida-based Air Ambulance Worldwide, told BBC Scotland: "This little girl is very sick.
"For her condition, she did very well."
He added: "She was on a ventilator."
A spokeswoman for NHS Grampian said: "Olivia is in a serious but stable condition at Royal Aberdeen Children's Hospital following her return from Mexico this afternoon.
"Her parents are hugely appreciative of the kindness and generosity which has been shown to them, but request that their privacy is fully respected at this difficult time."
The charity Families Against Neuroblastoma is helping the family.