Chevron begins designs for drilling west of Shetland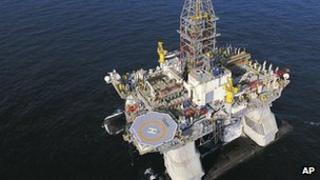 Oil company Chevron has announced it is moving forward with its Rosebank development west of Shetland.
It is beginning initial engineering and design work on the field, which is believed to hold up to 240 million barrels of oil.
The project will include a floating production vessel, production wells and a gas export pipeline.
Environmental groups have criticised the UK government for allowing exploration in the area.
Chevron have said the Rosebank project is an exciting step forward for them.
Deep water
Managing director of Chevron Upstream Europe Brenda Dulaney said: "Rosebank is an important project for Chevron and the West of Shetland region, which holds a significant portion of the UK's undeveloped oil and gas resources."
The Chevron-operated Rosebank project is located approximately 130km (80 miles) north west of the Shetland Islands, in water depths of approximately 1,100m (3,700 ft).
Deepwater drilling in the area west of Shetland has attracted strong criticism.
Environmentalists have claimed that the Deepwater Horizon disaster in the Gulf of Mexico in 2010 showed the dangers inherent in exploring such areas.
Oil fields west of Shetland are estimated to contain about 20% of the UK's remaining oil reserves.