Six fishermen rescued after trawler Denarius catches fire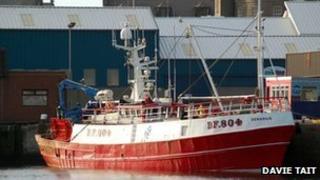 Six fishermen have been airlifted from a life raft after their trawler caught fire about 60 miles east of Orkney.
The alarm was raised when the blaze broke out on board the Banff registered Denarius on Monday afternoon.
Shetland Coastguard began a search and issued a mayday. The raft was spotted and the men were airlifted to hospital in Lerwick for checks.
The 22m wooden trawler was understood to have still been on fire as the rescue took place.
The coastguard had been unable to contact the Denarius after a distress beacon was activated, so launched the rescue operation.
A call to the vessel's owner established that its skipper, the owner's son, had called minutes earlier to report a fire.
Shetland coastguard watch manager David Robinson said: "The ability of the crew to activate their EPIRB (Emergency Position-Indicating Radio Beacon) in this incident was absolutely crucial as we were immediately passed information on their location, vessel name and shore contact which, in the absence of the ability to communicate directly with the vessel, meant that we were able to quickly send help to their position.
"We would like to thank the crew of the several vessels and helicopter that helped in locating the Denarius and providing on scene assistance."