Visit Aberdeen tourism body launched to promote city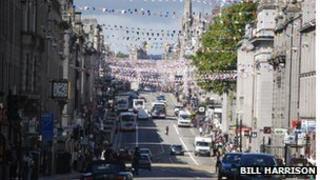 A new agency has been set up to promote tourism in Aberdeen.
Visit Aberdeen will be funded by various bodies including the city council, Business Improvement District, and hotel association.
The new organisation is a separate body to Visit Scotland Aberdeen and Grampian, which will continue to promote the wider north-east.
Steve Harris will be chief executive of the new body which will aim to improve private and public sector relations.
It will also have responsibility for marketing the city as a destination to visit.
Mr Harris said Aberdeen needed to do more to promote itself: "I believe it does have enough on offer already, that's not to say it's okay.
"I think there's a lot to do, to try and work on the offering and improve the offering and work it in such a way that it's really attractive to people, particularly people who have easy access to us."
He said the body would work to make sure Aberdeen was among the top destinations in Scotland: "Where other cities are already marketing themselves very effectively, this is our opportunity with a substantial budget to get out and market this city better."
However, Mr Harris admitted he thought there needed to be some development to Aberdeen to attract the visitors: "I do think there is more we can do about the product.
"I do think there is stuff we need to do to improve the centre of the city for example, but we've got an opportunity and that's what we need to do."