Aberdeen harbour traffic rises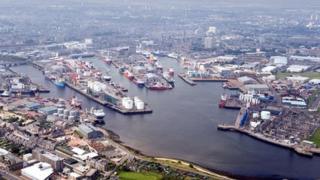 Aberdeen Harbour has reported a "significant" increase in traffic in the first six months of the year.
Rising activity in the oil and gas sector has been thanked for a 9% increase in support vessels - from 2,580 to 2,814 - using the port.
The figures were released just weeks after work commenced on a £5.2m program of improvements at the harbour.
Colin Parker, chief executive of Aberdeen Harbour Board, said: "These are particularly strong results."
He said the figures highlighted Aberdeen Harbour's "contribution to both the regional and national economy".
Mr Parker explained: "We are pleased with the performance over the first six months of 2012 and are equally proud of the role Aberdeen Harbour has played in handling the growth in exports generated by the local industries.
"The large increases in harbour traffic reflect the upsurge in North Sea activity, where exploration continues at pace with significant numbers of support vessels required to service those endeavours.
"This activity is anticipated to continue creating major economic benefits and opportunities for those involved in the energy sector.
"As such, continued investment in our facilities is vital to ensure that we are best placed to support the current and future needs of the industry."
The improvement project is expected to be completed by early October.