Business letter backs Aberdeen's City Garden Project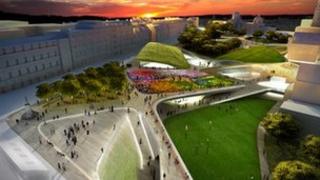 A letter from dozens of Aberdeen business leaders backing the City Garden Project has been sent to councillors.
A full meeting of Aberdeen City Council will discuss the proposals to transform Union Terrace Gardens on 22 August.
The administration's senior coalition partners, Labour, have said they want to scrap the scheme.
The letter describes the project as one of the "most exciting and ambitious opportunities".
In a referendum earlier this year, people were asked if they wanted to retain the gardens or back the City Garden Project redevelopment.
More than 86,000 votes were cast online, by post and by phone during the referendum. There were 45,301 votes in favour of the project, with 41,175 people opposed to the plans.
Tax Incremental Financing would see the £92m loan being paid back by increased income from business rates.
If it goes ahead, the project could be finished by 2017.
Meanwhile, a newly-published business case for the City Garden Project reveals the debt could be paid back in 20 years rather than 25.
That, the council papers say, could save the authority £36m over those final five years.