FirstGroup: From small acorn into transport giant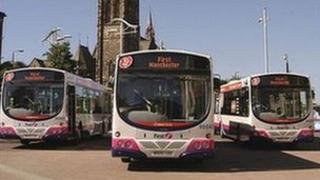 Over the past 23 years, FirstGroup has grown from a relatively small acorn into a mighty transport giant.
The UK's largest rail operator is set to take over one of the most profitable routes in Britain, the West Coast Mainline between London and Scotland.
Now a multi-national transport company, FirstGroup boasts a turnover of more than £6bn and has more than 120,000 employees worldwide.
It is a far cry from the Aberdeen-based company's beginnings as Grampian Regional Transport.
It was originally council-run, but became a private company in 1986 before being bought over by its staff in 1989.
Moir Lockhead was at the helm of the company, which at the time had 500 employees.
It has grown over the years into a sprawling operation with five main divisions - still headquartered in Aberdeen.
The bus operation in the UK has a fleet of thousands, carrying millions of passengers every week.
In 1999 it bought the First Student bus service in North America. It then became the biggest US school bus operator in 2007, following the purchase of the yellow school bus firm Laidlaw for £1.9bn.
At the time the Illinois firm operated 63,000 vehicles across 37 states in the US and six provinces in Canada.
Laidlaw also owned the Greyhound coach company.
Rail routes
First also now has transit operations in North America.
Sir Moir Lockhead stepped down as chief executive in 2011 after more than 20 years in the job, to be replaced by his deputy Tim O'Toole.
FirstGroup, which operates a number of rail routes including Great Western and ScotRail, has now won the West Coast Mainline service from Virgin Rail.
Under the name First West Coast Limited, it will take over the franchise from 9 December until 2026.
FirstGroup said it would "offer substantial improvements in the quality and frequency of services".
As the company continues its rise, the question may now be: "What's next for First?"