Orkney energy experts hook up with South Korea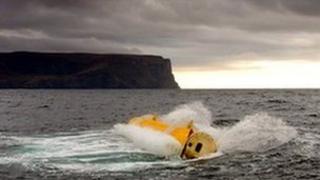 Marine energy experts in Scotland are to advise South Korea on building a tidal testing centre.
The Orkney-based European Marine Energy Centre (Emec) is providing technical assistance to Incheon Metropolitan City, in the north west of the country.
Incheon, one of South Korea's main cities, wants to harness the power of the sea off its western coast.
Emec will help regarding the design, construction and operation of the testing facility.
Richard Morris, commercial director at Emec, which was set up in 2003, said: "We are uniquely placed in terms of providing consultancy support to countries wishing to set up marine energy test sites and, in this case, our experience of device development testing in terms of performance, reliability and survivability in tough conditions is vital.
"South Korea has a superb resource, with some of the world's most active tidal waters off its shores and the administration's drive to harness that power is commendable.
"We look forward to working in collaboration with them."
Moung Jo Cho, director general of economic hub promotion for Incheon Metropolitan City, added: "The mutual benefits to be gained from this relationship are clear in terms of the support we can provide to one another.
"International collaboration is very important to the success of the global renewable industry and we are proud to be working together."
Incheon, which lies at the mouth of the Hangang River, is pressing ahead with a tidal testing centre during a time when the city has been undergoing massive economic development, including the expansion of its harbour and a new subway and airport.
Emec's involvement with the South Korean project, taken forward under a signed memorandum of understanding, came after similar agreements with China's Ocean University, the Japanese Marine Energy Centre and the Pacific Marine Energy Centre in Oregon, in the US.