New plan for Aberdeen City Garden Project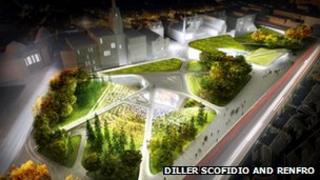 An alternative proposal for the future of Aberdeen city centre has been put forward the day before a vital vote, BBC Scotland has learned.
The Independent Alliance Group say they want to invest in the current Union Terrace Gardens and as many of the landmark buildings in Aberdeen city centre as possible.
The vote on the future of the proposed £140m City Garden Project will be held on Wednesday.
The plan is for a Granite Web design.
A Tax Incremental Financing (TIF) scheme would see a £92m loan to help to transform Union Terrace Gardens being paid back by increased income from business rates.
Supporters of TIF say it has the potential to create thousands of jobs.
However, opponents argue it is too risky.
The cost of the winning Granite Web design is £140m.
Businessman Sir Ian Wood had pledged £50m of his own money towards the scheme.
Other projects, including improvements to Aberdeen Art Gallery, also form part of the £92m TIF figure.
'Transformational' project
The amendment will be presented to the the full council by Independent group leader Marie Boulton.
A spokesperson for Sir Ian said he would not support the new proposal, as he wanted the project to be "transformational".
The administration's senior coalition partners, Labour, have said they want to scrap the scheme.
In a referendum earlier this year, people were asked if they wanted to retain the gardens or back the City Garden Project redevelopment.
More than 86,000 votes were cast online, by post and by phone during the referendum. There were 45,301 votes in favour of the project, with 41,175 people opposed to the plans.
If it goes ahead, the project could be finished by 2017.