Flash floods sweep vehicles away on Shetland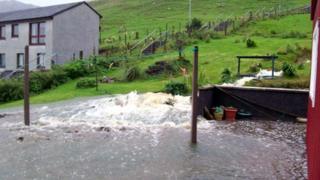 A Shetland family had a narrow escape when flash floods and hundreds of tonnes of peat poured down a hillside at their farm house.
Their Land Rover and car were swept away down the valley on Wednesday morning.
Deep water and a series of landslips closed roads and caused damage in parts of Shetland.
The main road in the south of the islands was closed to traffic for a time because of the deep water.