Olympic winner: Moray welcomes Heather Stanning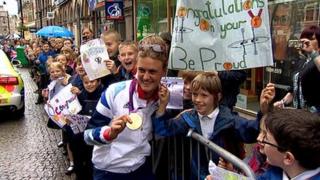 Lossiemouth's Olympic gold medal winner Heather Stanning has been welcomed back to Moray.
Stanning, and rowing partner Helen Glover, triumphed in the women's pair for what was Team GB's first gold and the first British female rowers to win an Olympic title.
She has already had a postbox painted gold in her honour.
Crowds gathered in Elgin before she received a scroll at Moray Council's HQ. She said it was fantastic.
Capt Stanning, 27, a Royal Artillery officer, was driven through the streets in an open-top army Land Rover.
Moray Council leader Allan Wright said: "The whole of Moray is immensely proud of Heather and her achievements.
"We are also creating an annual sporting award in Heather's name to recognise achievement by a young person in Moray. I know that this was something Heather is particularly keen on."
She is a former pupil of Gordonstoun School in Moray.
Army colleagues, former teachers, and politicians all paid tribute after the rowers won.
Do you have pictures of Heather Stanning's welcome in Elgin? Send them to the BBC Scotland news website at newsonlinescotland@bbc.co.uk
Please ensure when filming or photographing an incident that you make your safety and the safety of others a priority.
If you submit an image, you do so in accordance with the BBC's Terms and Conditions.