Olympic canoeist Tim Baillie gets second gold post box in Westhill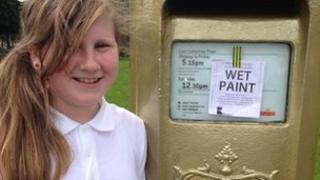 A second post box has been painted gold to honour Tim Baillie's victory in the Olympics.
Baillie, of Westhill, won gold in the canoe slalom C2 event, edging out Aberdeen's David Florence who won silver.
Royal Mail had already painted a post box gold in his home town in Aberdeenshire.
Requests from the public to have one in a more central location in Westhill have now been granted.
Royal Mail spokesperson Morag Turnbull said: "The original smaller gold post box will remain gold and we hope everyone will be happy with this decision."